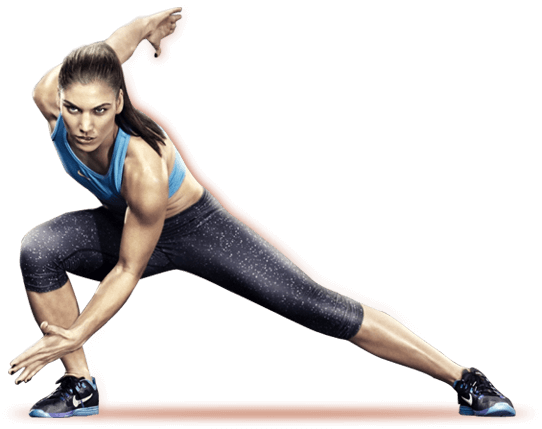 Diana's is stuffed full of the very latest kit when it comes to fitness. Built on partnerships with companies such as TechnoGym™, Concept 2™, Woodway™, Wattbike™, TRX™ and more, you can exercise safe in the knowledge that Diana's will continue to remain at the forefront of innovation.
The Gym, Sauna, Spa, Pool, Studios and Family Changing areas are all part of your membership. We know we talk a good game, but the proof is in the pudding! Click here to find out more about the club and facilities or contact us to arrange a guided tour and your free day pass!
Community
Being a member at Diana's isn't just about the brilliant equipment and facilities on offer. It's way more than that; staff and members alike can't stop talking about what a great atmosphere we have and how we work together to achieve your aspirational goals.
Take a look at our success stories and testimonials to find out more from our members, they're entertaining at the very least!
WHAT PEOPLE ARE SAYING
Emma Stills
I first started doing HIIT classes with Miri about 2 years ago. Since then I've lost 2 stone. Just over a year ago I started doing PT sessions with him and I have become much stronger. My sessions with him are hard and during the whole 30 minutes I hate him and he is my least favourite person! But when it's over I know that he has pushed me to help me get the best out of myself.
He helps keep me on track with what I eat too and when I'm not so good he makes sure I know about it!!! But honestly, without him, I wouldn't be anywhere near as strong or as healthy as I am now.
—
Sylvia Honegan
Thank you to everyone at Diana's Health & Fitness, here's to me freeing myself from another stone, nothing can stop me now.
A Diana's Member
I joined the gym in February 2013 as I needed to lose weight, over the years I had a few memberships at gyms around the county, Virgin, Banatyne's and the list goes on, but I never really achieved anything at them because I never really felt as if I belong. However since joining Diana's Health & Fitness, I have felt right at home, I love going to the gym now it's no longer a chore. Everyone was and still are so welcoming and very encouraging; Trace especially has changed my life I enjoy her Pilates classes so much as I know they are working because since February I have lost a stone in weight. I feel free again, not only do I not look 50 years old I don't feel it anymore.
Gill & Chris Thornton
We only use the swimming & spa facilities but it is a real pleasure – warm water, clean surroundings, excellent changing facilities, showers, lockers etc. We love the steam room and sauna. Keep up the good work – wonderful!!
Patrick Duke
Joining Diana's Health and Fitness has been the best thing to happen to me for a long time. I had an accident earlier this year and lost an arm causing me to fall into a state of depression. The staff at Diana's made me feel like the most important person in the world and turned my life around. They are always friendly and motivate me everyday to keep going. There are always lots of events going on in the club and always something to get involved in which I think is great. No matter what your size, age, ability or fitness levels they all make you feel like part of the family. My confidence has improved no end and I can't recommend Diana's Health and Fitness highly enough.
Andrew Swettenham
I wanted to drop a line to you to compliment you on the excellent facilities at Diana's Health & Fitness. The site is always extremely clean and the staff in particular Lucy Bedford very welcoming. Both myself and my fiancé really enjoy visiting the Gym and look forward to the future with you.
Leanne Knighton
Love, love, love the new equipment. So easy, motivating and will occupy my mind whilst I get moving. Brilliant investment. After 4 years off, I feel confident I can get back on it. Staff were lovely and helpful too. Thank you.
Katie Fuller
Best gym I've been to ever. Lovely, friendly atmosphere, you really feel included and get to know all the staff. You won't catch me moving gym! New equipment is fab! Can watch TV on the go! Win!
Kelly Anderson
I was really daunted about joining a gym where I didn't know anyone and feeling awkward and like everyone would be looking at me as I'm not fit at all (yet) but this gym is not like that at all. The staff are all really friendly, the instructors and gym team are amazing!! I feel really comfortable here and have loads of help and tips on how I can reach my goals. Would highly recommend people giving it a try, you will love it!
Groupon User
A nice gym, not too busy that you can't use all the equipment. I go there and don't feel that I'm being judged by other gym users or staff which is really nice. I would recommend this gym.
Bernice Rose
All the staff are friendly, helpful and welcoming. Best gym so far.
Sam Balment
Started a couple of months ago and now there most days. Good gym, nice pool and friendly staff.
Anna Rice
I was a member of another local gym but decided to take a look at Dianas following good feedback that I had heard from their customers.
I made an appointment to take a look around the club and was impressed with what I saw so decided to join.
Alex was really helpful. He explained the contract clearly, helped me complete the relevant forms and answered any questions that I had. He explained the payment process and when monies would be collected each month. He made the whole joining experience easy and hassle free for me (someone who hates completing paperwork).
Since joining the club I have found Alex to be really helpful and he always has a smile on his face whatever time of the day it is. If I have any queries he will always ensure that he answers them for me even if it means having to investigate and call me back.
You can see that he takes pride in his work and this is reflected in his outstanding customer service. He is a real credit to Dianas.
CALCULATE YOUR BMI
The Body Mass Index is a measurement of your body weight in relation to your height and allows us to categorise an adults weight into underweight, normal, overweight or obese. Please enter your height and weight below to see what your Body Mass Index is. You can enter in either metric or imperial:
| BMI | Weight Status |
| --- | --- |
| Below 18.5 | Underweight |
| 18.5 - 24.9 | Normal |
| 25 - 29.9 | Overweight |
| 30 and Above | Obese |