Around this time every year, when the grocery aisles are fully stocked with goodies, a dilemma arises: Do you stock up on sugar laden treats for the local trick-or-treaters? Or do you wear your dietician hat and look for healthier alternatives that won't evoke a look of disgust from the children?
With the helping hand of these healthy alternatives you will start a new trend of healthy treats for trick-or-treaters (or even yourself). Gone are the days when you dunked your hand into a bowl of confectionary and pulled out a fistful to take home. Gone are the days when you sit under your covers and scoff all your trick-or-treat finds.
Welcome the days of fun and healthy alternatives the dentist won't scowl upon.
Banana Ghost Lollies
Cut a large banana in half lengthwise and then in half again to make four quarters. Insert a lollypop stick into the bananas and place them onto baking parchment and place them in the freezer. When the bananas have frozen, melt white chocolate in the microwave for thirty seconds at a time or on the hob. Make sure to stir the chocolate until it is melted and soft. Dip the bananas into the white chocolate and scrape off any excess. Place onto baking parchment while you dunk the rest. Before the chocolate hardens, add chocolate chips or raisins for the eyes (you have to be quick here). Return your ghost lollies to the freezer until completely set.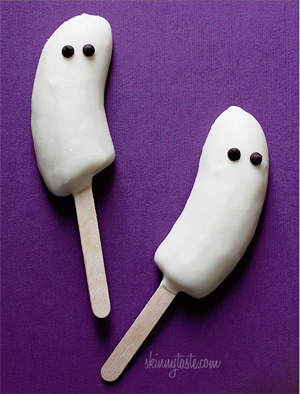 Cheese pumpkins
Using soft cheese, spoon out one tablespoon of cheese onto baking parchment. Roll it into a ball and with a toothpick, carves lines into the side of ball to create your pumpkin. Place a pretzel stick into the middle at the top and gently press it down to slightly flatten the pumpkins. Serve with crackers for an adorable yet healthy snack.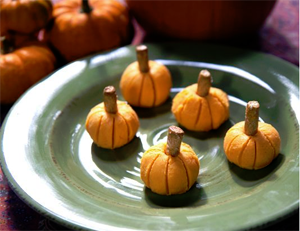 Snack-o'-Lantern Fruit Cups
These are super simple but so much fun – and a great alternative to carving pumpkins what with the pumpkin shortage we've got this year! All you need is some medium sized oranges and your favourite fruits to make a fruit salad. Start by slicing off the top of the orange and hollow out the inside – just as you would a pumpkin. You can save the orange segments to be part of your fruit salad. Carve your spooky designs into the sides your oranges and use a paper towel to soak up any remaining juice inside. Then simply fill with your favourite chopped fruit and replace the top of the orange.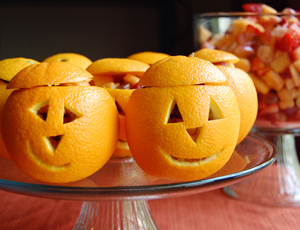 Apple bites
Ok so continuing the simple but tasty theme, these apple bites look awesome and take minutes to make! Start by slicing your apples just before the core to give you two pieces and the left over core per apple. Then slice each piece in half so you now have four apple quarters. Chop out the middle of your quarters from the skin side to make your open mouth. You might want to rub a smidge of lemon juice on the flesh to reduce the natural browning. Next spread your filling that will represent the tongue – jam or peanut butter work well. Finally, take some almond pieces or your favourite seeds and push them gently into the top and bottom pieces of apple to create your teeth.